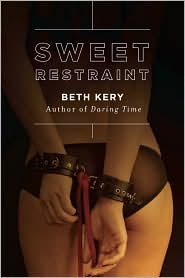 Title:
Sweet Restraint
Author:
Beth Kery
Publishing Date:
July 2009
Genre:
Contemporary/Erotic
Rating:
C
Sensuality:
Burning
Book Disclosure:
Rented from
Paperspine
.
FBI Agent Shane Dominic is investigating the Chicago Police for crooked cops. He suspects that Laura Vasquez's husband is one of them. When Laura's husband turns up dead he thinks Laura knows something about the crime ring her husband was a part of. Only Laura's not talking. Shane and Laura had a relationship thirteen years ago until she abruptly broke it off and married someone else. Shane didn't understand it then and he still doesn't. But he wants answers and to get them he kidnaps Laura for a weekend to show her the fire they once had is still burning strong.
The main problem I had with this story was Laura. She is one very pig-headed, stubborn woman. She also does some very stupid things and puts herself in danger more than once. She resists Dante time and again as he tries to learn what forced Laura to marry Huey. I don't know how she could resist Dante in all his manly glory. I actually enjoyed Dante's character. He was smart and confident and had the "it" factor. But what he saw in Laura was beyond me.
There is
A LOT
of sex in this book. Most of the scenes helped to move Dante and Laura's relationship forward, but a few of them felt gratuitous. The problem I find with having too many of these scenes is that the author runs out of words to use and the same phrases get recycled, which happened by the end of this book. Kery was also very fond of the word "Dusky" to describe Dante's skin.
This book can be purchased in print or kindle format from
Amazon
.