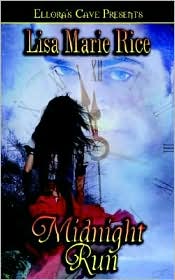 Title:
Midnight Run
Author:
Lisa Marie Rice
Publishing Date:
2004
Genre:
Contemporary
Rating:
C
Sensuality:
Hot
Book Disclosure:
Received a used copy from
Paperbackswap
. Read it for
Keishon's TBR Challenge
but didn't quite make the date!
Midnight Run
is the first book in Lisa Marie Rice's Midnight Trilogy. Lieutenant Tyler "Bud" Morrison is hanging out in a seedy bar undercover. While there Claire Parks catches his eye, mainly because she stands out like a pristine flower among tainted weeds. The person he was supposed to meet never shows. Claire is practically attacked by a persistent suitor and Bud comes to her rescue. He takes her home and they spend an unforgettable weekend together and the start of a new relationship.
Lisa Marie Rice is one of the first authors I read when I started reading romance and I really loved her sweet heroines and protective heroes. When I picked up
Midnight Run
, I knew exactly what to expect. It would be like settling in with an old friend. Only this time, I have realized my old friend and I have grown apart. We no longer have anything in common.
Midnight Run
unfortunately is full of romance clichés. We have the sweeter than sugar heroine, who is a virgin who can't believe the sensations her man can give her vagina. We have the cop hero who rescues the heroine from danger and can still manage to give her an orgasm. All right, I admit I am being a little harsh, seeing as I really used to enjoy this stuff. But when I read this... how was I
NOT
supposed to role my eyes!!?
No, wait... he held her more tightly, slanted his mouth over hers, licked his tongue deep into her and she felt... she felt a flutter in her vagina!

I did enjoy the second half of the book better than the first part because finally there is conflict between Bud and Claire. Claire grows a backbone and becomes feisty and Bud in his over-protectiveness stifles Claire. Also, the heady internal dialogue diminishes to a tolerant level. This was a quick, pleasant read - if eye-roll inducing in the beginning.
Here is what others had to say:
I Just Finished Reading
J. Kaye's Book Blog
This book can be purchased in print and kindle format from
Amazon
.