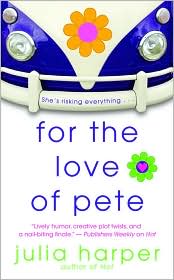 Title:
For the Love of Pete
Author:
Julia Harper (aka Elizabeth Hoyt)
Publishing Date:
January 2009
Genre:
Contemporary
Rating:
B-
Sensuality:
Hot
Book Disclosure:
Received a used copy from
Paperbackswap
.
For the Love of Pete
starts off with a bang right from the beginning. Zoey Addler is pissed because her sexy next door neighbor just stole the parking space that she managed to shovel free of snow. As she is standing there ranting at him, a man comes out of their apartment complex with a baby in one arm and a gun in the other. He starts shooting at Zoey and Dante - aka "Hot Lips". As Dante is about to give chase to the baby napper, Zoey hops into his BMW and is already dialing 911. That's her neice who was taken and Zoey is determined to get her back.
For the Love of Pete
is a silly, light-hearted read. Zoey is very impulsive and is definitely not afraid to speak her mind. Dante is pretty much her complete opposite. He is very neat and likes things well thought out and planned. These two end up working together to get Zoey's niece, Pete back from the kidnapper. Some very silly things happen along the way as two little old ladies in Indian Saris steal the kidnapper's vehicle. The two little old ladies were quite a hoot. They have known each other since they were little girls and they have quite the history together. Their conversations were fun to read and very enjoyable.
The romance between Zoey and Dante was a little hard to believe. The story only takes place over a few days and suddenly they are in love. Ummm... okaaaaaay. It's just that I could believe Zoey would fall in love that quickly, but I figure Dante being the less impulsive one of the couple would need more time.
For the Love of Pete
isn't a bad story. The characters are fun and entertaining. The writing is clever and flows well. It's just the romance was a little lacking in comparison to the kidnapping plot. So far, I like Elizabeth's historical romances better.
Here is what others had to say:
Dreaming on the Job
Dear Author
Book Binge
The Book Girl
Leslie's Psyche
Babbling About Books, and More
CA Reviews
Book Reviews by Crystal
Book Reviews by Bobbie
This book can be purchased in print or kindle format from
Amazon
.