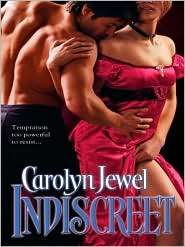 Title:
Indiscreet
Author:
Carolyn Jewel
Publishing Date:
October 2009
Genre:
Historical
Rating:
B+
Sensuality:
Hot
Book Disclosure:
Checked it out from the library after coming across many fabulous reviews on the web.
Lord Edward Marrack becomes the Marquess of Foye after his older brother dies unexpectedly. Edward had vowed never to marry after being engaged to a woman who runs off with another man, who
was
a close friend of Edwards. Edward wasn't the only one hurt by the scandal. Sabine Godard was also caught in the backfire and her reputation was ruined. Her Uncle, Sir Henry takes her along with him on his travels to the Middle East to escape the scandal. There by accident almost two years later, Lord Foye and Sabine meet in Turkey. Sabine is an unusual woman because she has been better educated than most men. Edward can't help his fascination with her and he begins to court her.
Indiscreet
is a nice, entertaining read. Sabine is an unusual woman for her time because of her level of education, but reader's will appreciate that she still acts like a woman from the 19th century and not the 21st. I really liked that Edward and Sabine early in the story establish their relationship. Both are equally open about their feelings toward one another. It was nice that the two characters facilitated their relationship moving forward, rather than an external conflict.
Eventually, Sabine does find herself kidnapped by an important Pasha and Edward comes to her rescue. He uses his wit instead of his might to get her back. Edward was also unusual in that he is a very large, muscular man, about 6 1/2 feet tall and has (how to put it delicately) not a pretty face. He is self-conscious of his size and wishes he weren't so big. I am such a sucker for a large, ugly hero. He isn't really ugly - at least Sabine doesn't think so and that's what's important.
One little factor that kept pestering me was the details surrounding Sir Henry's unfortunate incident. More information, or closure seemed needed to clear things up. Also, it is unclear whether the Pasha was ever held responsible for his misdeeds. Otherwise, the actual romance between Sabine and Edward was a real winner.
Here is what others had to say:
The Geeky Bookworm
Happily Forever After
Dear Author
Novel Addiction
Nobody Asked Me
Closetwriter
This book can be purchased in print or kindle format from
Amazon
.