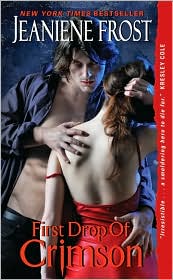 Title:
First Drop of Crimson
Author:
Jeaniene Frost
Publishing Date:
March 2010
Genre:
Paranormal
Rating:
C
Sensuality:
Hot
Book Disclosure:
I purchased a new copy.
First Drop of Crimson
is a spin-off book from Frost's Night Huntress series. It takes place in the same world as the series, but the story revolves around Kat's best friend Denise and Bone's vampire buddy, Spade. Denise is propositioned by a demon to find an ancient relative of hers who made a deal with the demon and then reneged on it. The demon gives Denise no choice but to comply and try to find this guy. She enlists the help of Spade and doesn't want to involve Kat or Bones. While trying to track this guy down Denise and Spade fight their attraction for one other.
I didn't enjoy
First Drop of Crimson
as much as I have the other Night Huntress books. It seemed to be missing the spunk and flair the other books have. I think this is mainly due to the fact that Denise's personality is more sedate with less bravado than Kat. Since Kat's personality is so vibrant, Denise's seemed all the more flat.
As far as the romance between Spade and Denise, there were some good moments and the story flowed well. I didn't have any trouble turning the pages. However, I was a little annoyed that Denise constantly kept trying to push Spade away. I have a hard time recommending this book. Fans of the night huntress series might still want to read it because it is Frost. If you want to read a Frost book, I don't recommend starting with this one. It can stand alone, but I think it pales in comparison to Frost's other books. Will I keep reading her? Hell yes! One dud isn't going to make me quit.
I'll have to add links later :)