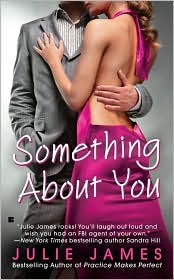 Title:
Something About You
Author:
Julie James
Publishing Date:
March 2010
Genre:
Contemporary
Rating:
B
Sensuality:
Warm
Book Disclosure:
Purchased a new copy.
Cameron Lynde is in a hotel room trying desperately to get some sleep. Only it seems the couple next door is have a marathon bought of noisy, adventurous sex. Crazy yet, it turns out she accidently catches a glimpse of the murderer as he is leaving the room. She doesn't quite know he strangled the woman at the time. She is delivered that message from the FBI as they keep her from leaving the hotel for hours on end. Finally fed up with the way things are progressing she demands to speak with someone in charge. Turns out that someone is Jack Pallas, with whom Cameron clashed fiercely with once upon a time. Just her luck.
I really like Julie James. Her writing is quick and witty with lots of panache.
Something About You
was another great book, however I didn't enjoy it as much as her first two books
Practice Makes Perfect
and
Just the Sexiest Man Alive
. Let me see if I can adequately explain why.
Cameron and Jack have a lot of great chemistry. They start out lashing out at one another verbally but underneath are fighting their attraction for each other. While the chemistry was there, I just didn't feel it was as prominent as what I have read before. I did like how the secondary characters played an important role in moving the action forward. One of my favorite scenes in the book was the bachelorette party that Cameron throws for her good friend Amy who is getting married. Wilkins, Jack's FBI partner kind of tricks him into attending and it was a funny scene.
One thing that I really liked about James's writing is her knowledge of the courtroom. She has the ability to make the courtroom come alive in her stories. Disappointingly for me
Something About You
was missing that element. I think had I read this book first as opposed to her other novel, I would have been less critical. As it stands, I did enjoy reading it, but it's not my favorite by her.
Here is what others had to say:
Leslie's Psyche
All About Me
Book Addict
Dear Author
Review has quotes from the Batchelorette scene
Read React Review
Thrifty Reader
Book Binge
The Book Girl
Closetwriter
The Book Smugglers
Smart Bitches, Trashy Books
Impressions of a Reader
Babbling About Books and More
This book can be purchased in print or kindle format from
Amazon
.