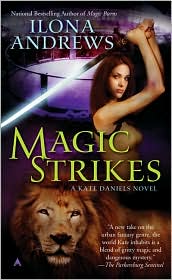 Title:
Magic Strikes
Author:
Ilona Andrews
Publishing Date:
2009
Genre:
Urban Fantasy
Rating:
B+
Sensuality:
Subtle
Book Disclosure:
Borrowed from the library.
Magic Strikes
is the third book in Ilona Andrews' Kate Daniels series. I have given a brief summary of this series
here
if you are interested in learning more about it. In this book Kate's young werewolf friend Derek is viciously attacked leaving him in a comma like state. For a werewolf this is almost unheard of and Kate is determined to help him heal. To do that she must track down the creatures that did this to Derek and she will also uncover why they did it. Meanwhile, Kate and Curran's relationship is also building.
Things are finally starting to heat up between Kate and Curran. Curran is actively courting Kate by shape shifter rules. Since Kate is not a shape shifter she doesn't know what those rules are. She sometimes finds out the hard way. Kate is afraid of being another notch on Curran's belt. She actively tries to resist his courtship even though she is attracted to him and her feelings run deeper than she is willing to admit. Curran is very confident in his prowess and has no doubts that eventually Kate will be his mate.
With each book the reader learns a little more about Kate's background. Finally in
Magic Strikes
the reader finds out who Kate's father is and why she has been so secretive about her heritage. I think this is the strongest book so far in the series. I have really warmed up to Kate since the first book. She is a total bad ass, but very protective and loyal to those she loves. I am really glad I don't have to wait long for the next book
Magic Bleeds
.
Here is what others have to say:
The Book Smugglers
Literary Escapism
Anna's Book Blog
Smexy Books
Leslie's Psyche
Good Books, Bad Books and Every Book in Between
This book can be purchased in print or kindle format from
Amazon
.