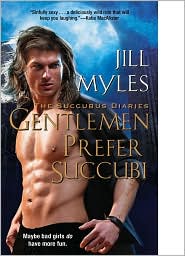 Title:
Gentlemen Prefer Succubi
Author:
Jill Myles
Publication Date:
January 2010
Genre:
Paranormal
Rating:
B+
Sensuality:
Hot
Book Disclosure:
I purchased a new copy.
Gentlemen Prefer Succubi
is the first book in Jill Myles' Succubus Diary series. It is narrated in the first person from Jackie Brighton's point of view. Dumpy and frumpy Jackie wakes up one morning in a dumpster and can't remember how she got there. Slowly, in bits and pieces, she starts filling in the gaps of her memory. She also starts to notice changes in her body. Her clothes don't fit and she doesn't need classes anymore, plus men can't seem to stop staring and drooling over her. All of this is so out of the norm she needs help to make sense of it all. This is where sexy angelic Noah comes in and explains what is happening to Jackie. She has become a succubi.
This was a fun book! I was surprised really, at how much I came to like and enjoy Jackie. I wasn't quite sure that I could get into a heroine who was a succubi. After all, they are all about the sex. However, Jackie didn't just go around sleeping with everything with a pulse. Her personality is very sweet and likable with a little bit of sarcasm to balance her out well. She narrates with a bright and funny voice. The pacing is very quick, as I just flew through the book.
I will admit that I wasn't too overly impressed with the mystery/suspense portion of the book. When the mystery was finally solved, it just seemed all too easy and not the most creative I've read. The clues could have been delivered more cleverly. It was easy to figure out certain aspects of the mystery. However, I was genuinely surprised by Myles whit and fun storytelling style. I will definitely be reading her again.
Here's what others had to say:
Smexy Books
Reading with Tequila
Dear Author
(Guest Reviewer)
This book can be purchased in print or kindle format from
Amazon
.