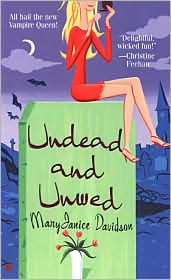 Title:
Undead and Unwed
Author:
MaryJanice Davidson
Publishing Date:
2004
Genre:
Urban Fantasy
Rating:
B
Sensuality:
Hot
Book Disclosure:
I downloaded a copy of the audio book from my library.
Undead and Unwed
is the first book in MaryJanice Davidson's Betsy Taylor series. Betsy is a young woman in her mid twenty's who happens to get hit by a car and die. Only she wakes up in a coffin wearing shoes from payless and a designer knock-off suit. Betsy is hard pressed to decide which is worse: the suit and bad shoes or waking up in a coffin.
Undead and Unwed
is the first book in Betsy's new like as a vampire.
Betsy Taylor has a very unique personality. It's very fun and snarky. She loves designer shoes, Gone with the Wind and is a major girly girl. Not every reader will like her or relate well to her, but I found her narrative entertaining. However, too much sarcasm and pop culture references can tend to make the passages drag a little.
Davidson puts a more light hearted spin on vampires. Some of the antics of Betsy and her friends reminded me of Janet Evanovich's Stephanie Plum series, without the love triangle.
So far it is a good start to the series. There is just a hint of romance to keep fans of romance interested. You know me though, and I am always interested in seeing where things will go for Betsy. One hero, Sinclair seems to stand out the most and I wonder how things will work out for Betsy and him. I do plan on continuing with the series to find out.
This book can be purchased in print or kindle format from
Amazon
.