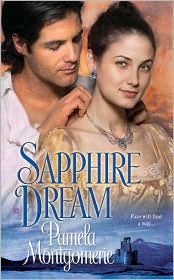 Title:
Sapphire Dream
Author:
Pamela Montgomerie
Publishing Date:
2009
Genre:
Time Travel
Rating:
B+
Sensuality:
Warm
Book Disclosure:
I got a used copy from Kris at the Central Fl blogger meet and greet.
Brenna Cameron finds herself on a pirate ship off the coast of Scotland. At first, she can't remember how she got there and thinks these men are actors, possibly from a movie set or war re-enactors. After a dangerous encounter with these men Brenna comes to the realization that she is in the year 1768. She is tied to a prophesy that claims she will destroy of the Earl of Slains. With only the help of the handsome captain, Roarke Douglas she must find a way to get back to her own time.
I was pleasantly surprised with
Sapphire Dreams
. It has been a while since I read a time-travel novel of this caliber. Pamela Montgomerie does an awesome job of setting the tone and mood of the book. Even though this is a time-travel novel it felt very real. It had a more serious and intense vibe than other time-travel books I have read like Sandra Hill or Sandy Blair.
Brenna is very smart and her actions reflect that. Once Brenna realizes how dangerous the world is for an unescorted woman in this time she clings to her only protector, Roarke. Her confusion and abandonment really came across strong giving the book a feeling of reality. I also really liked that Roarke and Brenna don't fight their attraction. They are fairly open with their feelings for one another. Another positive in the book's favor is an unusual twist to the plot that keeps this time-travel novel fresh and original.
Brenna and Roarke occasionally make the mistake of assuming things about the other, which eventually leads to problems that could have easily been avoided had they communicated better. More historical detail could have beefed up this book to an A rating.
Outlander
by Gabaldon did set the bar high, but
Sapphire Dream
comes close. I enjoyed it and believe that fans of time-travel will too.
Here is what others had to say:
The Good, The Bad and The Unread
Ramblings on Romance, Etc.
This book can be purchased in print or kindle format from
Amazon
.