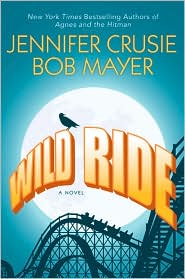 Title:
Wild Ride
Author:
Jennifer Crusie and Bob Mayer
Publishing Date:
March 2010
Genre:
Fantasy
Rating:
C-
Sensuality:
Warm
Book Disclosure:
Borrowed from the library
Mary Alice Brannigan, who goes by Mab, has come back to her home town to restore an old amusement park. Strange things are happening in the park. Clown statues seem to come to life, people are being shot at and friends talk of demons. Plus, a handsome man is fawning all over her and she can't figure out why. He is irresistibly handsome and shouldn't be interested in a boring, drab woman like her.
I really like Jennifer Crusie, but this book was a major dud for me. If you continue on reading this review be prepared for a rant, for I feel one coming on. I was disappointed with
Wild Ride
. I was looking for a romance and what I got was slap stick horror. That is definitely not my cup of tea. Yes, there are traces of Crusies's signature style. There is quite an interesting ensemble cast, which offers up great dialogue. But that in my opinion that is about all this book had to offer, unless of course you like comedic horror, then you might enjoy this "Wild Ride".
Have you ever seen the movie Army of Darkness, or some other horror flick that was more for laughs than for screams? That is what
Wild Ride
reminded me of. There were stuffed teddy bears, the ones that people try to win at carnival games. These little buggers came to life and tried to kill people. Mab as a choice of heroine was definitely unusual. She dresses like a bag lady and wears a minor's hat on her head. It has a light on it so she can see when painting in the dark. Umm... okaaaaay...
The romance is a big fat let down. Romance? What romance? It was about two pages towards the end of the book. Really the only thing that kept me reading was because it's Jennifer Crusie. I just kept hoping it would get better. Unfortunately, it never did. I give it points for being original, but I can't recommend this one.
Here is what others had to say:
Cheryl's Book Nook
This book can be purchased in print format from
Amazon