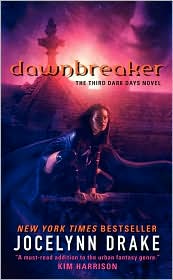 Title
:
Dawnbreaker
Author
: Jocelynn Drake
Publishing Date
: 2009
Genre
: Urban Fantasy
Rating
: C+
Sensuality
: N/A
Book Disclosure
: I purchased a new copy.
Dawnbreaker
is the third book in Jocelynn Drake's Dark Days series.
Dawnbreaker
is told in the first person point of view from the main character Mira, a centuries old vampire also known as the fire starter. She has a major battle coming up between herself and her unlikely partner Danaus against the Naturi, unearthly creatures that have been locked in captivity for years. If these Naturi were to escape, then vampires and humans alike would be in serious trouble, as the Naturi want to kill them all.
Alright, I admit it. I had some problems with this book and I did struggle through the reading of it. Mainly the romance is pretty much non-existent and by book three in the series, I really need a connection to be established between the main couple. To put it bluntly, I need more romance!
Mira is a hard character to connect with. She is fair and protective, but at the core of her is a killer. The plot and characters are very well drawn and well developed, but the pacing of the book is on the slow side. It is most evident at the beginning of the book when things are being set up. It had been a while between reading books in this series and therefore I couldn't quite remember everything that had happened previously. So for a little while there in the beginning I felt a little lost as to what the heck was going on. Eventually, things started to pick up, but it took me a while to be drawn into the story.
I really like the mystery surrounding Danaus. The reader really has no idea what is going on with him. As I heard it from Jocelynn herself, Danaus will be narrating the next book,
Pray for Dawn
. I think this is such a smart move on her part. I really don't think I would be all that interested to continue this series, but that is some serious temptation. I want to know more about Danaus!!
This book can be purchased in print or kindle format from
Amazon
.