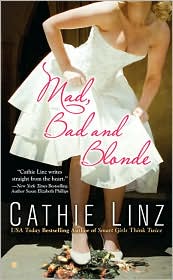 Title
:
Mad, Bad and Blonde
Author
: Cathy Linz
Publishing Date
: April 2010
Genre
: Contemporary
Rating
: B-
Sensuality
: Warm
Book Diclosure
: Nath gave me a copy and I couldn't tell if it was new or used, LOL!
Faith West finds herself dumped at the altar by of all things, a text message. Leaving her family to clean up the mess, Faith decides to go on to Italy by herself where she would have honeymooned. She runs into Caine Hunter and being on the rebound and romantic Italy, she sleeps with him. Afterwards she finds out that Caine was working for her father's arch rival as a PI. Caine is trying to clear his father's name and blames Faith's father for botching an investigation that eventually led to his father's suicide. Faith and Caine keep bumping into each other as they investigate the same case by trying to clear their fathers' of any wrong doing.
Mad, Bad and Blonde
is my first Cathy Linz book. At first I found her writing style to be a little unusual. She has a tendency to keep descriptions short and sweet and the writing style comes across very straight forward and concise. I thought this was especially noticeable in the beginning. She also uses a lot of dialogue to move the plot forward. While I do like good dialogue, I felt that the setting and mood suffered. My emotional connection to the book was not as strong as it could have been.
I did enjoy both the main characters Faith and Caine. Faith is a no nonsense women not afraid to speak her mind or take charge if the situation allows for it. Caine can come across as gruff at first, but underneath he is a fair and reasonable man.
Mad, Bad and Blonde
had a good plot with good family values to help strengthen it. There are several secondary characters which added humor and depth to the book. I happened to enjoy Faith's grandmother and Buddy the private investigator as they start their own little romance.
Here is what others had to say:
The Good, The Bad, The Unread
The Book Lush
Babbling About Books and More
The Book Girl
This book can be purchased in print or kindle format at
Amazon