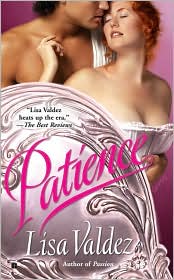 Title
:
Patience
Author
: Lisa Valdez
Publishing Date
: April 2010
Genre
: Historical
Rating
: B+
Sensuality
: Burning
Book Disclosure
: I received a used copy from PBS.
Patience
is the second book by Ms. Valdez featuring the Dare sisters. Patience Dare is the sister-in-law of Matthew Morgan who has recently discovered that he is illegitimate. In a very short time, Matthew has lost his fiancé, become a social piranha and finds his fortune quickly dwindling away. Matthew is certain his former fiancé's father is behind the cause. As Matthew is struggling with the disdain of the
Ton
, he finds himself soothed by Patience and her gentle, caring nature.
I found Patience to be a very engrossing, all encompassing and emotional tale that lived up to my expectations. Ms. Valdez had no problems drawing me into the story and connecting me to her characters. Matthew and Patience are well drawn and complex. Matthew especially held my interest as he struggled with dark feelings of revenge and greed - not typically hero material. Patience is his opposite when it comes to honesty and integrity. Her innate goodness is what eventually rubs off on Matthew and gets him to set his own moral compass. Both of these characters go through an emotional journey which strengthens their bond for each other and draws the reader into the story.
I found it very interesting and unusual how Ms. Valdez is able to create a very sensual book and yet still tie in many religious themes. The nice thing is that it is not done in a preachy way at all. Actually if anything the sex is more the focus and is very descriptive and smokin' hot (especially for those readers who like D/s). However, there were times when certain phrases or words were used excessively. It eventually became overkill and would pull me out of the story. Overall, I think that
Patience
is a great book and it was well worth the wait.
Here is what others had to say:
Pearl's World of Romance
Lovin' Me Some Romance
Romance Novels I Read
Babbling About Books and More
Smexy Books
This book can be purchased in print or kindle format from
Amazon