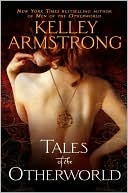 Title
:
Tales of the Otherworld
Author
: Kelley Armstrong
Publishing Date
: May 2010
Genre
: Urban Fantasy
Rating
: A
Sensuality
: Warm
Book Disclosure
: Borrowed from the library.
Tales of the Otherworld
is a collection of short stories by Kelley Armstrong. These stories are a part of Kelley's Otherworld series. I am going to review this collection of stories as one book, instead of reviewing the individual stories. Each story pretty well ties into each other and it will just be easier for me to give an overall review.
I absolutely loved
Tales of the Otherworld
, if for no other reason than it had the story of how Clay and Elena met. For those readers who are familiar with Ms. Armstrong's series, will know exactly what I am talking about. For those of you who don't, go out and read
Bitten
, the first book in the series and you will be as hooked as the rest of us! Aside from Clay and Elena's story, there is also the story of how Eve and Kristof met and it has a story of Lucas and Paige investigating a murder that may have been done by a vampire.
Kelley Armstrong is such a fantastic writer. Her characters are fully fleshed out and she has a way of making the reader really connect with them. It doesn't matter which character I am reading about, I am 100% involved in them and their plight. She makes her characters seem so human, with problems and emotions that everybody has experienced at one point or another in their lives. They are so relatable and thus it makes for a very enjoyable reading experience. I highly recommend Kelley Armstrong. You could easily read this book as your first introduction into her writing, but it would mean so much more if you started with the first book in this series
Bitten
. If you enjoy paranormal romance or urban fantasy and haven't read Ms. Armstrong out, you are truly missing out.
Alpha Reader
Love Romances and More
Tez Says
This book can be purchased in print or kindle format from
Amazon