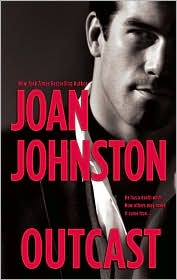 Title
:
Outcast
Author
: Joan Johnston
Publishing Date
: 2009
Genre
: Romantic Suspense
Rating
: B-
Sensuality
: Warm
Book Disclosure
: I received a free copy from the RT Book Lovers Convention.
Ben Benedict is trying to make is way in the world after leaving the military because of suffering from Post Traumatic Stress Disorder. He has joined a task force in Washington DC to fight the ever escalating drug problem. Ironically enough, Ben finds himself back fighting terrorism when Al Qaeda operatives target Washington politicians as their next victims through a DC gang Ben has been working with. As if that isn't enough, he finds himself attracted to the doctor treating him for PTSD.
Outcast
reminded me a lot of the 80's old school romances. Here, Ben is one of those hero's who is a real jerk to the heroine and doesn't want to own up to his "softer" feelings. Ben has a lot of Mommy issues and only uses women for sex. He doesn't want to have to depend on any woman and then have her push him away and therefore leave him vulnerable to a broken heart. He'd rather break their hearts first instead of have his own broken. So this pretty much sums up his poor treatment of the heroine.
Even though, Ben is quite the jerk, it is a true testimony to what a good job Johnston does as a writer because she had me coming back for more time and again even though Ben annoyed me. The story is very gripping and entertaining. If you are looking for heroes of the old days and a gripping, dramatic story then
Outcast
is for you. Good news is that
Outcast
is the start of a new series and Ben comes from a very interesting high society Washington family. It looks like there will be more great books on the horizon featuring his brothers and sisters.
Here is what others had to say:
Scorched Sheets
This book can be purchased in print or kindle format from
Amazon
.