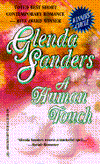 Title
:
A Human Touch
Author
: Glenda Sanders
Publishing Date
: 1991
Genre
: Contemporary
Rating
: B
Sensuality
: Warm
Book Disclosure
: I received a used copy from
PBS
.
Kyle Brooks is a divorce lawyer who likes to keep to his self. His good friend Mark convinces him to take in a homeless woman with an infant as his live in maid. Due to unforeseen circumstances, Meredith Quinn a college graduate finds herself destitute and living out of her car with her one month old daughter. Unable to provide for herself and her child she turns to Father Mark for help.
A Human Touch
lives up to its title quite nicely. The book easily evokes feelings of forgiveness, understanding and happiness through the journey of Kyle and Meredith's relationship. Each of these characters has a reason to keep their heart securely locked up behind closed doors. Kyle is surly and rude at times. Meredith is cautious and hesitant. Yet these two eventually meet in the middle and learn from each other.
This book is by no means perfect. For one thing it is very dated. Kyle reminds me of one of those 80's business type heroes. He is the one with all the influence and money, while the woman is destitute and helpless. However, Kyle's personality always has a ring of humility to it. He has enough vulnerability to redeem him and make him likeable. Some of the fashion descriptions and electronics used date the book. Overall it is an enjoyable read where the characters emotionally evolve. For a reader looking for a short enjoyable read, look no further.
Here is what others had to say:
Monkey Bear Reviews