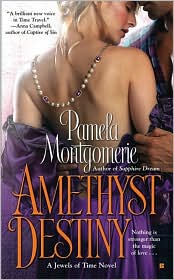 Title
:
Amethyst Destiny
Author
: Pamela Montgomerie
Publishing Date
: May 2010
Genre
: Time Travel
Rating
: B-
Sensuality
: Warm
Book Disclosure
: I purchased this book new.
Amethyst Destiny
is the second book in Pamela Montgomerie's Jewels of Time series. Julia Brodie is sent back through time to 1688 after her cousin gives her a special necklace. She finds herself in a castle in Scotland standing before a man who believes he is responsible for her time-travel. Talon, known as the wizard thinks the magical ring he wears brought her to him in order to help him find a lamp. Julia and Talon work together to find the lamp and send her back home, but they both harbor feelings for each other that complicate the situation.
Julia Brodie is one of those heroines who get on my nerves. She was a prickly little booger, always snipping at Talon and just being a pain in the ass in general. Now, Julia has valid reasons for most of her behavior, but it was annoying all the same. Talon has his own issues which stem from low self esteem. He doesn't think he is worth much without his magical ring. The good news is that Julia sees beyond that and believes him to be a good man and worthy of her love.
The pacing in
Amethyst Destiny
is good. There is plenty of action to keep the story moving forward. The nice thing about the characters is that they morph and grow as the story moves along. I have noticed that Mongomerie is not afraid to delve into more horrific events to stir up the readers' imaginations. The time travel element, while fantastical itself feels more realistic to Montgomerie's writing, which leads a more realistic style as far as lifestyle and human emotions go. I didn't like
Amethyst Destiny
as much as I did
Sapphire Dreams
, however I am not ready to write this series off yet.
Here is what others had to say:
Smexy Books
This book can be purchased in print or kindle format from
Amazon
.