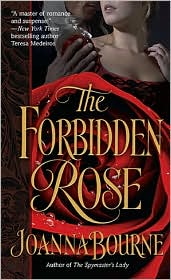 Title
:
The Forbidden Rose
Author
: Joanna Bourne
Publishing Date
: June 2010
Genre
: Historical
Rating
: B+
Sensuality
: Hot
Book Disclosure
: I purchased a new copy.
The Forbidden Rose
is loosely connected to Joanna Bourne's other novels
The Spymaster's Lady
and
My Lord and Spymaster
. Marguerite de Fleurignac finds herself living in the woods after her home is burned down by mercenaries of the Republic. France is in an upheaval with noblemen and women fearing for their lives. William Doyle, a British spy is trying to locate Maggie's father as he believes him the man responsible for traitorous acts involving the death of important men. He discovers Maggie hiding amongst the rubble of her former home and offers to escort her to Paris under the disguise as a humble book peddler with his helpful servant Adrian Hawker.
The Forbidden Rose
is a very complicated book filled with intrigue and passion. It is set during a very tumultuous time of the French Revolution. There are very complicated plots afoot. Maggie is involved with helping those who have been targeted by the Republic flee France. Doyle works as a British spy and wants to put an end to the Terror. There are other factions at work as well which make this a very complicated and confusing story. I am not really one for spy stories, but Bourne's writing is so compelling that I cannot seem to help myself. I was much more interested in the romance between Doyle and Maggie than I was the French intrigue. However, the backdrop of French turmoil created a very poignant and intense setting for this romance.
The characters are extremely well drawn and are what make the story come alive. This book was much more sensual and explicit than Bourne's previous two books, which I found somewhat surprising. For those who are fans of her character Adrian Hawker, who appeared in the previous two books, will be very happy to learn that this book delves more into Adrian.
The Forbidden Rose
takes place previous of the other two books and gives the reader insight into how Adrian came to be the way he is. I didn't enjoy
The Forbidden Rose
as much as I have Bourne's previous books and I think this is due to the complexity to the spy plots. I had a hard time following things. Plus, I found myself trying to remember Doyle from the previous books and had trouble recalling the details. It makes me want to go back and reread
The Spymasters Lady
and
My Lord and Spymaster
. If you are a fan of Joanna Bourne you won't want to miss
The Forbidden Rose
.
Here is what others had to say:
Dear Author
Smexy Books
Babbling About Books and More
This book can be purchased in print or kindle format from
Amazon