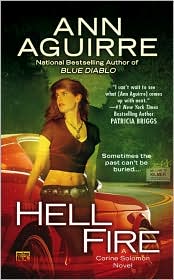 Title
:
Hell Fire
Author
: Ann Aguirre
Publishing Date
: April 2010
Genre
: Urban Fantasy
Rating
: B-
Sensuality
: Kisses
Book Disclosure
: I borrowed a copy from my library.
Hell Fire
is book two in the Corine Solomon series. In this book Corine Solomon narrates the story. She heads home to southern Georgia to determine the circumstances of her Mother's death. Corine has always suspected that there were supernatural reasons associated with her Mother's death and they all stemmed from the town itself. She takes Chance, her former boyfriend back to Georgia with her to find out what really happened.
Hell Fire
is an excellently written book. However, I didn't enjoy it as much as I did
Blue Diablo
, the first in the series. This mostly stemmed from the direction or lack there of that
Hell Fire
went in terms of romance. It seems Hell Fire has more questions instead of answers when it comes to Corine and her men, Chance and Jesse. Corine is at a crossroads in her life and she can't seem to make up her mind on who will fit in her life better. I think it is obvious, but she will walk that path with or without anyone's help.
Okay, so back onto the plot, which was excellent by-the-way. I loved the dark mysterious setting. There is plenty of tension and Aguirre knows how to set the mood. There is something dark and mysterious about the town and this book is about getting to the bottom of that. I love how Corine references that her team almost equals that of Scooby Do and she even goes as far as making a reference to "those meddling kids".
I think this is a series to watch. The writing is excellent. I just would like to know where the romance is going. You know me. I am totally romance driven!
Here is what others had to say:
Book Lovers, Inc.
All Things Urban Fantasy
Lurv aLa Mode
Book Binge
Renee's Book Addiction
This book can be purchased in print or kindle format from
Amazon