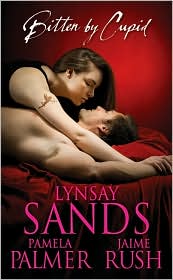 Title
:
Bitten by Cupid
Publishing Date
: January 2010
Genre
: Paranormal
Book Disclosure
: Received a used copy from
Paperbackswap
.
Bitten by Cupid
is an anthology featuring Lindsay Sands, Pamela Palmer and Jaime Rush. I only read the last two novellas in the book. I just couldn't get into the first story by Lindsay Sands.
Title
:
Hearts Untamed
Author
: Pamela Palmer
Rating
: B-
Sensuality
: Warm
Hearts Untamed
is part of Pamela Palmer's Feral Warriors series. Julianna is being blackmailed to find particular piece of jewelry. To complicate matters the one man she loved and offered virginity to is returning after ten years, but he left because he didn't return Julianna's love. What Julianna doesn't realize is that Zee left for a completely different reason.
This was my first introduction to the Feral Warriors series. Julianna is one of those heroines who gets on my nerves. She deliberately assumes the worst about a situation and then determines that she must handle the problem completely alone. She pulls away from the hero for most of the story. What saves this story is that Zee doesn't listen to Julianna and pushes her enough that she finally gives into him. I also thought that for a short story and this being my first introduction to the world building, the author did a really nice job of filling in the blanks without overwhelming the reader.
Title
:
Kiss and Kill Cupid
Author
: Jaime Rush
Rating
: B
Sensuality
: Warm
Kiss and Kill Cupid
is an off shoot of Jamie Rush's Offspring series. I have read the first two books in the Offspring series and these characters are new. It's not necessary to have read any of the other Offspring books. Kristy Morgan is interviewing for a job as a writer for a popular adventure magazine. She has the ability to hear other people's thoughts and she hears a serial killer's thoughts to make her his next victim. Kristy isn't sure if her employer Adrian might be the killer, never mind that he is attractive.
I enjoyed this short story for the mystery. It's a quick and easy read with good pacing and a good solid mystery. It isn't too terribly hard to guess who the killer is, but the delivery worked for me. The chemistry between Kristy and Adrian was good for a shorter novel, but the staying power of the relationship is questionable because of the strenuous circumstances of them meeting.
This book can be purchased in print or kindle format from
Amazon
.