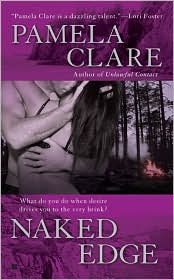 Title
:
Naked Edge
Author
: Pamela Clare
Publishing Date
: March 2010
Genre
: Romantic Suspense
Rating
: B+
Sensuality
: Hot
Book Disclosure
: I purchased a new copy.
Naked Edge
is book 4 in Pamela Clare's I-Team series. Katherine James meets Gabe Rossiter when he rescues her after falling from a cliff and breaking her leg. Months pass and once again Gabe comes to Kat's rescue when a prayer session is broken up by the police. Gabe witnesses a police officer accosting Kat. Within the next week, Kat's close friend and mentor Grandpa Red Crow dies from what looks to be an accidental death. But after Kat does some investigating of her own, it looks like murder and Kat may be next.
Naked Edge
is another great addition to Pamela Clare's I-Team series. Ms. Clare takes the reader into the world and traditions of the Navajo people. Kat's mother is Navajo and her father an unknown white man. Kat has always been rejected by her Mother and never knew her father. She has felt apart from both worlds. She is very closed off from people and has almost no experience of any kind in terms of a relationship with people. She doesn't really have any girlfriends and she has never had a boyfriend or sexual relationship.
Naked Edge
is a great balance between Kat and Gabe's emotional journey and learning to trust the other and the mystery surrounding Grandpa Red Crow's death. Just like Kat, Gabe has to learn to let people in and get close to him. He suffered a tragedy in his past that he has never gotten past. With Kat's help Gabe starts to trust again. Naked Edge allows the reader time to see Kat and Gabe morph into more emotionally open people.
One thing about the book that I wonder about after finishing it is why there wasn't anything about Gabe's background growing up with his family. There is a lot of background about Kat's family and the book feels unbalanced with not knowing anything about Gabe's family. Somehow they are left out. It's not overtly obvious when reading the story. It wasn't until the end, did I even notice it was lacking in this area. Despite my one gripe, fans of this series won't want to miss this latest installment.
Here is what others had to say:
Dear Author
Book Binge
Smart Bitches, Trashy Books
World According to Books
Leslie's Psyche
Impressions of a Reader
Laurie's Laudanum
This book can be purchased in print or kindle format from
Amazon