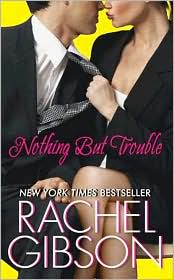 Title
:
Nothing but Trouble
Author
: Rachel Gibson
Publishing Date
: May 2010
Genre
: Contemporary
Rating
: B
Sensuality
: Hot
Book Disclosure
: I received a used copy from Paperbackswap.
Nothing but Trouble
is part of Rachel Gibson's Chinook's Hockey series. Mark Bressler is recovering from a very bad car accident which has devastatingly ended his career as a professional hockey player for the Chinooks. To make matters worse, his team has just won the Stanley Cup and he had to sit at home and watch instead of skating on the ice with his teammates. Chelsea Ross is a struggling actress who takes a position as Mark Bressler's home health care assistant. Mark's surly demeanor and grumpy disposition will stretch her nerves to the breaking point as she tries to stick out the duration of the job for three months, which will earn her a $10,000 bonus.
Nothing but Trouble
is a solid read. I enjoyed the fast paced antics between Chelsea and Mark. Mark is a grumpy bastard for the first part of the book. Gibson makes this understandable because of his circumstances and he does have his sensitive moments. Chelsea puts up with a lot in the beginning but easily dishes it out back just as good as she gets it from Mark. They are evenly matched with their explosive chemistry.
Nothing but Trouble
is not a deep read by any means, but it is fun and entertaining. It does have a rather predictable confrontation at the end. However, it is not dragged out to the point of frustration. Mark and Chelsea easily work through their misunderstanding and a sweet ending is had for all. For fans of contemporary or sports themed romances,
Nothing but Trouble
is a quick, fun read.
Here is what others had to say:
Breezing Through
Book Addict
Book Binge
The Good, The Bad, The Unread
This book can be purchased in print or kindle format from
Amazon
.