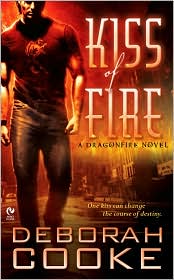 I just received
Kiss of Fire
by Deborah Cooke from my daughter today. Deborah Cooke is a new author to me. It says on the cover that it is a Dragonfire novel. It sounds to me that this book is part of a series. Has anyone read this series and if so can I start with this book or should I read the books in order? Is there a continuing story arc throughout the series? It sounds really interesting here is the back blurb:
For millennia, the shape-shifting dragon warriors known as the Pyr have commanded the four elements and guarded the earth's treasures. But now the final reckoning between the Pyr, who count humans among the earth's treasures, and the Slayers, who would eradicate both humans and the Pyr who protect them, is about to begin...
When Sara Keegan decides to settle down and run her quirky aunt's New Age bookstore, she's not looking for adventure. She doesn't believe in fate or the magic of the tarot-but when she's saved from a vicious attack by a man who has the ability to turn into a fire-breathing dragon, she questions whether she's losing her mind-or about to lose her heart...
Quinn Tyrrell has long been distrustful of his fellow Pyr and a self-reliant loner. So when he feels the firestorm that signals his destined mate, he's determined to protect and possess Sara, regardless of the cost to himself. Then Sara's true destiny is revealed-and Quinn realizes he must risk everything- even Sara's love-to fulfill their entwined fates...
So what do you think? I'll have to do some research on it!