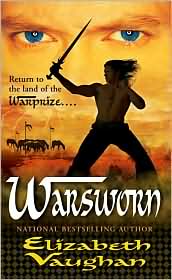 Title:
Warsworn
Author:
Elizabeth Vaughan
Publishing Date:
April 2006
Genre:
Fantasy
Rating:
B+
Sensuality:
Warm
Warsworn
is book two of
The Chronicles of the Warlands
Trilogy. This trilogy is about the relationship between Xylara, Queen of the Xians and Kier, Warlord of the Plains and their struggle to combine their two cultures. Lara and Kier's cultures are very different and Kier has a vision of learning from Lara's culture and improving his own.
Warsworn
begins with the Firelanders (Kier's army) returning to the Plains where Kier plans to announce Lara as his chosen mate. This journey is cut short however, when they encounter a town on the way afflicted with the Plague. Lara is a healer and has sworn and oath to help in any way she can to those who are sick and in need. Kier does not want to let her anywhere near the town and fears for her safety. They argue and part ways each upset with the other. This leads to a downward spiral of events that will forever change Lara and Kier's fate. For now they have much too over come, not only the plague, but rival warriors who challenge Kier's right to rule.
Let me start off by saying that this book is much heavier than the first one. Kier and Lara have to face what seems like almost insurmountable hardships, and not only that, but their love for one another is on very rocky ground. Truth does not come easily to Lara for fear of how Kier will react and she has to learn the hard way how this will affect their relationship.
The writing is very sharp and Lara and Kier vividly jump off the pages. Although, Lara and Kier are the main focus, the other characters are just as riveting. Marcus, Kier's right hand man is quite and unusual, yet fascinating man. Lara's guards, especially Isdra and Epor were an example of a mated Firelander couple. Then there is Gil, Lara's apprentice who almost steals the show.
Warsworn
, without a doubt had very grim overtones, but it was a gripping and compelling tale. The story ends with things unsettled and the future unsure. I can't wait to read the third and final book of this wonderful tale.
Here is what others had to say:
Reading Adventures
Lesley W's Book Nook
The Reading Spot
Dear Author