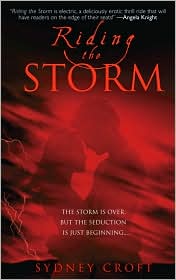 Title:
Riding the Storm
Author:
Sydney Croft
Publishing Date:
2007
Genre:
Erotic (Paranormal)
Rating:
B
Sensuality:
Burning
Haley Holmes is a parameteorologist working for the ACRO agency. This agency is composed of very special men and women who have extraordinary "gifts". (Think x-men). Her mission is to convince Remy Begnaud, who can control storm weather, to join the ACRO agency before ITOR forces him to join their side. Where ACRO wants to utilize their people's special powers for the greater good of everyone, ITOR wants it for their own nefarious purposes creating world havoc. Haley is to use any means possible to persuade Remy to join ACRO and that means a no holds bar seduction. For Haley and Remy the attraction to one another is immediate and electric.
Haley and Remy are both likable people and they are both extremely passionate. The relationship moves very quickly and may seem a little unbelievable at first but what can you expect in a story where the hero is capable of conjuring up his own thunderstorm. Remy is a demanding, take charge kind of guy and Haley is a stubborn, yet very giving woman. I don't think there is anything ground breaking with either of them, yet they are enjoyable. Both have slight baggage but they easily work it out. Sex is the main focus of this story, with an interesting world full of unique abilities. As long as you're not expecting anything too profound or deep, I think you will enjoy this quick, sexy read.
A secondary relationship between Creed and Annika begins in
Riding the Storm
. As I understand, their relationship will be continued as the series progresses since it was not concluded in this book. Annika controls electricity and Creed can talk to ghosts. He also has some very unusual tattoos that he was born with. I am curious to see where the author goes with their relationship.
Here is what others had to say:
The Book Binge
The Good, The Bad, The Unread - Azteclady
The Good, The Bad, The Unread - Alicia
The Good, The Bad, The Unread - Gwen