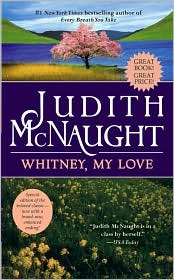 Title:
Whitney, My Love
(special collector's edition)
Author:
Judith McNaught
Publishing Date:
1995
Genre:
Historical
Rating:
B+
Sensuality:
Warm
Whitney Stone is a young head-strong girl of age fifteen, who is determined to marry Paul Sevarin. She is so outrageous in her attempts to win Paul that her father, who lacks control over Whitney, sends her to live with her Aunt Anne and Uncle Gilbert in France. There she blossoms into a beautiful young woman whom French society just adores with her fresh and direct manner. Whitney unknowingly catches the eye of the Duke of Claymore, Clayton Westmoreland. He knows immediate that he wants her and sets about a plan to get her. Whitney has other ideas though, and still aspires to marry her childhood love, Paul. What ensues is quite a love story of epic proportions.
What struck me first was the ability of Mrs. McNaught to immediately draw the reader into the story, by painting such a vivid picture of a young girl, Whitney. Whitney is quite a captivating character, richly drawn with a depth of personality. She can be obstinate and determined and yet she can also be soft and vulnerable too. She is no simpering ninny, but is contrite when she knows she did something wrong. In essence, she is infinitely likeable.
The hero of the story Clayton was every bit as well drawn as Whitney. What I liked about him was how he went about trying to woo Whitney. He already knew he was going to marry her and could force her if he wanted too. Yet he chose to give her time to come to know him and make her own decision. It was a lot of fun to read of their courtship and the witty repartee that they shared during this time.
It did turn ugly though, when inevitable the "big misunderstanding" occurred. McNaught really pulls the heartstrings of the reader, making them feel Whitney and Clayton's pain. This occurs not once, not twice, but three times. Talk about an emotional roller coaster. If you are a reader who loves angst, there is plenty to go around in Whitney, My Love. This was a rich story that grips you emotionally and doesn't let up.
*Note* The version I read was rewritten to be more politically correct. It has a new longer ending and added scenes. This makes me wonder what the original book was like if this one was considered the "tame" version. I shudder to imagine.
Here is what others had to say:
Reading All Night Long
All About Romance