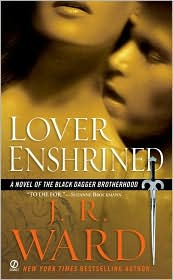 There are quite a few books I want that will be released this month. First and foremost is
Lover Enshrined
by JR Ward, book six of the Black Dagger Brotherhood series.
I have to say though, I don't like this cover. I just recently took a CPR class and the models on this cover look eerily similar to the practice dummies.
Here is the summary:
Fiercely loyal to the Black Dagger Brotherhood, Phury has sacrificed himself for the good of the race, becoming the male responsible for keeping the Brotherhood's bloodlines alive. As Primale of the Chosen, he is to father the sons and daughters who will ensure that the traditions of the race survive and that there are warriors to fight those who want all vampires extinguished.
As his first mate, the Chosen Cormia wants to win not only his body but his heart for herself- she sees the emotionally scarred male behind all his noble responsibility. But while the war with the Lessening Society grows more grim, and tragedy looms over the Brotherhood's mansion, Phury must decide between duty and love.
Next is Kresley Cole's
Dark Desires After Dusk
, book five of the Immortals After Dark series. This one is a no brainer since I have loved all the other books in this series.
Here is the summary:
Cade of the rage demons will stop at nothing to atone for the one wrong that will haunt him forever. But once he secures the key to his redemption, the halfling Holly Ashwin, Cade finds that the woman he thought he could use for his own ends and then forget haunts him as much as his past.
Raised as a human, Holly Ashwin never knew that some frightening legends are real until she encounters a brutal demon who inexplicably guards her like a treasure. Thrust into a sensual new world of myth and power, with him as her protector, she begins to crave the demon's wicked touch.
Yet just when he earns Holly's trust, will Cade be forced to betray the only woman who can sate his wildest needs—and claim his heart?
Excerpt
Next up is
Running Wild
by Sarah McCarty, a new paranormal series involving shape shifters.
Here is a summary:
Donovan—A Protector, Donovan's directive is to bring the Pack Alpha home and nothing more. But when Donovan catches the sexy human scent of Lisa Delaney, he's hers, body and soul—and ready to risk both on an erotic desire that will shatter all boundaries.
Kelon—Kelon likes his life as the biggest, baddest Protector of his pack. He fully intends to go back to his pack after he helps Donovan out, but he never counted on the voluptuous distraction of Robin Delaney. Soft, sweet, and sexy, Robin is the one woman that can make him forget duty and make him contemplate a choice no werewolf should ever have to make.
Wyatt—In a pack where only the strong can lead, and any weakness is exploited, Wyatt can't afford to be attracted to the ever practical, completely human Heather Delaney. But with her trim body, fiery temper, and lush mouth, Heather isn't a woman a man ignores— no matter what the cost.
Excerpt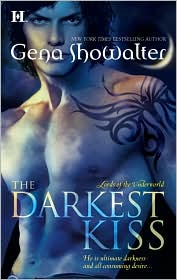 The Darkest Kiss
by Gena Showalter is book two in her Lords of the Underworld series. I figured I would give this series another try.
Here is the summary:
She has tempted many men… but never found her equal.
Until now.
Though she has lived for centuries, Anya, goddess of anarchy, has never known pleasure. Until Lucien, the incarnation of death—a warrior eternally doomed to take souls to the hereafter. He draws her like no other. And Anya will risk anything to have him.
But when the merciless Lord of the Underworld is ordered by the gods to claim Anya herself, their uncontrollable attraction becomes an anguished pursuit. Now they must defeat the unconquerable forces that control them, before their thirst for one another demands a sacrifice of love beyond imagining.…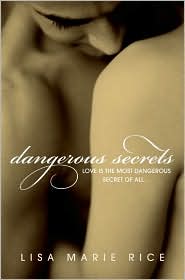 Last but not least we have
Dangerous Secrets
by Lisa Marie Rice. She is a guilty pleasure read for me. I read her last release
Dangerous Lover
and enjoyed it.
Here is the summary:
Small-town librarian Charity Prewitt never dreamed she'd meet and fall in love with a man like Nicholas Ames. The handsome, rich, charming, sexy-as-hell millionaire blew into tiny Parker's Ridge, Vermont, and immediately rocked her world. Powerful, sensual, the perfect man, Nick knows all the right words—and all the right spots to touch, sending her soaring to dizzying new heights of ecstatic abandon. Never before has prim and proper Charity leapt into bed with a perfect stranger—and now that she's there with him, nothing is going to drag her away!
But Nick Ames is not who he claims to be. In truth, he is Nicholas Ireland—the one they call "Iceman." A former Delta Force operator, now a high-level undercover agent, he will do whatever his government asks of him—lie, seduce, betray . . . even kill, if necessary—for the sake of the mission. And this time his mission is Charity Prewitt.
Suddenly one woman has broken down his chilly restraint and ignited his passions completely. And before the erotic dream turns into a nightmare, will Charity be able to melt the Iceman's cold, cold heart?