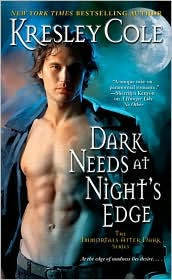 Title:
Dark Needs at Night's Edge
Author:
Kresley Cole
Publishing Date:
April 30, 2008
Genre:
Paranormal
Rating:
A-
Sensuality:
Hot
Dark Needs at Night's Edge
is the fifth book in Kresley Cole's Immortals after Dark series. It features Conrad Wroth, a turned vampire who is slowly being consumed by madness. In order to save Conrad from this madness, his brothers chain and drug him in an old haunted mansion. The mansion once belonged to a famous ballerina Neomi Laress who was brutally stabbed by her ex-fiancé. For 100 years she has been a ghost confined to her property. No one has been able to see or hear her until Conrad believes he is hallucinating and truly succumbing to madness. It's not madness. He really is seeing a ghost.
I have to say that I was really skeptical about this story since the romance involved a ghost. Since I have enjoyed the previous four books in this series (no ratings below a B) I thought I would give Cole the benefit of the doubt. I am glad that I did because I loved this story. This series just keeps chugging right along, with strong characters and a well developed overall story arc, that I am sure will culminate with the Accession. This story had plenty of angst to work through and towards the end I was hanging on to the edge of my seat wondering how everything was going to come together. It was very satisfying to say the least.
Conrad is a unique character in that he has never been with a woman, and has almost no experience at all interacting with them. You might think that this makes him less manly, but that is not so. Cole does an excellent job of portraying the big bad Alpha male that fans have grown to expect from her and she does not disappoint. Conrad has had a very hard life and when he is thrown a gift such as Neomi, he truly appreciates what he has been given and will never take her for granted and always cherish her. This is one of the reasons I like Cole's heroes so much because they put their women on a pedestal.
Neomi is the light to Conrad's darkness. She brings him joy and peace that he has never known. She knows what she wants and she is not afraid to get it herself. I love how in the end when she reaches a despairing level, she berates herself for having a pity party, gets off her butt and fixes her own problems. You go girl! Who says you need a man to make you happy. Of course, she ends up with said man in the end. She gets to have her cake and eat it too. This is an excellent addition to the Immortals after Dark series and I can't wait for the next release.
Here is what others had to say:
Breezing Through
Dear Author
The Good, The Bad, The Unread
The Book Binge
Ramblings on Romance