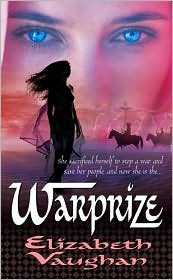 Title:
Warprize
Author:
Elizabeth Vaughan
Publishing Date:
June 2005
Genre:
Fantasy
Rating:
A-
Sensuality:
Warm
Warprize
is the first book in a trilogy
The Chronicles of the Warlands
, spanning the relationship between Lara and Kier. It is told from the first person point of view by Lara, the Daughter of Xy, who is a healer. Her people, the Xyians, are being attacked by the Firelanders or People of the Plains. The Firelanders are aggressive and Lara's brother, King Xymund strikes a deal with the Warrior of the Plains, Kier. He has agreed to give Lara to Kier as the Warprize in exchange for peace. Lara agrees to the decision for the safety of her people.
This is a fascinating story of love and the challenge of merging two different cultures together for the good of all. The Plain People and the Xyians are worlds apart culturally. Kier wants to learn from Lara and the Xyain culture as a way to improve his own culture. He wants what is best for his people. This is an amazing man and a great leader. He knows his culture is not perfect and wants to improve it as best he can.
Lara and Kier must learn and understand how to overcome their differences. Mistakes are made, but both Lara and Kier are quick to learn from them. And that is one of the reasons why I loved this book so much. There are no petty misunderstandings and there are many opportunities for them to happen. When one of them doesn't understand something they talked about it until it made sense to them. Despite their many differences Kier always treats Lara with respect. As the Warprize she is treasured above all.
My one little quibble with the book was the abrupt ending of the story. I can't get into detail without giving away spoilers. There is resolution at the end of the story, but I needed more. I would have liked for a good grovel or something to explain more to me how Lara's decision affected Kier. At the time I didn't realize that their story was told over three books. Now that I know that, I am chomping at the bit to get the next book in the trilogy. Hats off to Elizabeth Vaughan because this was a fantastic book. Reel me in, I am hooked!
Here is what others had to say:
Karen Knows Best
Reading Adventures