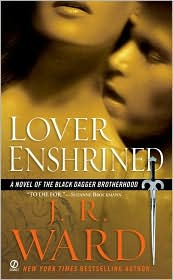 Title:
Lover Enshrined
Author:
J.R. Ward
Publishing Date:
June 2008
Genre:
Paranormal
Rating:
B
Sensuality:
Hot
Lover Enshrined
is the sixth novel in the Black Dagger Brotherhood series. It features the vampire warrior Phury along with the continuation of the battle between vampires and lessers. Phury has agreed to become the Primale of the Chosen. This means he has to willingly bed his first mate Cormia along with forty other Chosen and try his hardest to impregnate them all to provide the brotherhood with new warriors. The problem is Phury is deeply depressed and a drug addict. About five months have past since book five
Lover Unbound
took place and Phury has yet to mate with Cormia. While Phury is wallowing in depression Cormia is discovering a whole new world. She mainly keeps to herself feeling out of place away from the Sanctuary.
I really felt badly for Phury throughout most of this story. I really thought the other brothers let him down and weren't there for him in his time of need. It is such a shame too because in all the other books Phury was always there for everybody else. As a matter of fact he has spent his life putting everyone else's needs before his own. I just wish that in his time of need his brothers would have shown their support of Phury instead of turning away from him and letting him deal with his drug addiction on his own.
As much as I was bothered by the brothers' treatment of Phury, I still enjoyed this book and couldn't turn the pages fast enough. Even though I may have wanted Phury's story to be written differently, Ward is still an exceptional story teller. Each and every character felt very individual and even small secondary roles were portrayed with striking details. The details are in the way each character would think and act and how they express themselves. She makes all her characters seem so human, yet you can't help but feel for them and with them as they go through their ups and downs.
There was a lot happening in this book with multiple storylines. Cormia and Phury had book space, but it wasn't always together. I would have enjoyed the romance more if they would have spent more time together. John, Blay and Quinn had a lot of air time. I enjoy their part in the books, John especially. There is a unique twist with the lesser. Also we learn more about Rhevenge. I am not sure what to make of him. I am thinking he is not really my cup of tea, but we shall see. I definitely plan on reading the next one. I hate to sound like a fan girl, but Ward is a master storyteller. Where she leads, I will follow.
Here is what others had to say:
Cupid's Chokhold
Karen Knows Best
The Book Binge
Dear Author
The Good, The Bad and The Unread
Ramblings on Romance
The Happily Ever After
The Reading Spot
Lesley W's Book Nook