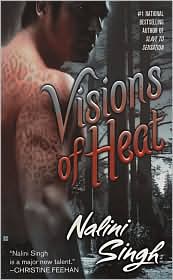 Title:
Visions of Heat
Author:
Nalini Singh
Publication Date:
2007
Genre:
Paranormal
Rating:
C-
Sensuality:
Hot
Don't hate me, but I did not like this book. I had an incredibly hard time finishing it. I don't know if it was me or the book. Seeing how this series has been very popular amongst romance readers, it's probably just me then.
Visions of Heat
is the second book in Nalini Singh's Psy-Changeling series. It features Vaughn D'Angelo, who is a sentinel in the DarkRiver leopard pack. Vaughn himself is a jaguar changeling who was accepted into the pack when he found himself orphaned. He meets Faith NightStar and is immediately attracted to her against his will. Faith is an F-Psy, which means she has the gift of Foresight. She has made a very lucrative living for the Psy, predicting financial success of certain business endeavors. Recently Faith has been having strange experiences and she wants answers. The only problem is she knows she can't trust anyone. She seeks out Sasha Duncan, the DarkRiver Alpha's mate for answers. Sasha is a Psy who has gone rogue, so-to-speak. Her story was told in the first book
Slave to Sensation
.
For me, the biggest problem was that I could not get into the characters. It wasn't that they weren't likable, because they were. It is more like they were flat and boring. I just wasn't riveted by them. I think the main reason for this is because over and over we are told of how much an animal Vaughn is, how close the cat is to having control and yet I didn't really see that acted out. Basically it was all talk. Come on Vaughn, walk the walk buddy.
I have to admit I am totally confused as to what exactly is the NetMind. If anybody who has read this book gets "it", please fill me in. I am clueless. The suspense part of the story was forgettable and seemed not quite fully developed.
The one aspect I did like about the book was Faith's relationship with her father at the end of the story. I like how he turns the table on Faith and shakes her view of him up a bit. That was a nice twist I didn't see coming. I will be reading the third book in this series
Caressed by Ice
because I just received it. Let's hope I like it better than this one.
Here is what others had to say:
The Book Smugglers
Thrifty Reader
Dear Author