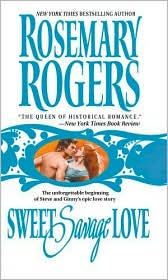 Title:
Sweet Savage Love
Author:
Rosemary Rogers
Publishing Date:
1974
Genre:
Historical (Western)
Rating:
B-
Sensuality:
Hot
Wow, the drama! Where should I begin with this book? I have to say, this was quite the read. On the one hand, I loved it. On the other hand, I hated it. It is a difficult book to rate because the writing of the story was so compelling and griping and yet, at the same time, the main character, the hero Steve, was not at all likeable. So in the end, I will do the best I can to summarize my thoughts of this sweeping saga.
At the beginning of the book, America is in the middle of its Civil War. Steve Morgan is an officer of the North sent to Louisiana for duty. While there he fights in a duel with a higher ranking officer and shoots and kills him. His punishment is execution. He is offered another alternative and that is to work as an off-the-record agent of the United States. He will basically be known as an outlaw and deserter while secretly working on extremely covert and dangerous missions. His own safety will be in his own hands.
Four years down the road, he is given a mission to intercept a wagon load of gold being transported to Mexico. On this mission he meets Ginny Brandon, the senator's twenty year old, head-strong daughter. She catches his eye and try as he might he can't seem to stay away from her. When the mission takes a turn for the worst, Steve kidnaps Ginny to save his own hide. What ensues is an epic love story of high drama and intrigue.
Sweet Savage Love is a long, emotional rollercoaster of a book. Ginny was an amazing character. Her personality leapt off the pages of this book. I loved her. In the beginning of the story, she was a young girl with silly spoiled ideals who grew into a strong compelling woman by the end. The journey she traveled to go from one to the other was a dark, brutal one. It was hard to read at times, but I admired her will and drive to survive and get what she wanted.
Steve on the other hand was not so great a character. He made some bad choices that I found hard to forgive in a hero. Steve was not even hero material, in my humble opinion. He was cruel and mean to Ginny and always ready to think the worst of her. You name it, he did it to her. Personally, Steve was not my cup of tea, but to Ginny he was a God. One thing that I did like about the book was how true each of them stayed to character. Neither one ever made any excuse for their behavior. They just accepted each other for who they were, warts and all.
*Warning* There is rape in this book, not once, but multiple times, by multiple people.