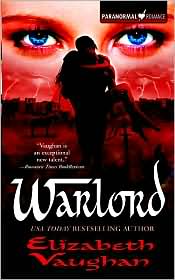 Title:
Warlord
Author:
Elizabeth Vaughan
Publishing Date:
2007
Genre:
Fantasy
Rating:
A-
Sensuality:
Hot
Warlord
is the third and final book of
The Chronicles of the Warlands
Trilogy. This trilogy is about the relationship between Xylara, Queen of the Xians and Kier, Warlord of the Plains and their struggle to combine their two cultures. This trilogy should definitely be read in order and you can read my reviews on the first two books
Warprize
here
and
Warsworn
here
.
In
Warlord
, Lara is the main focus of the story and since Lara and Kier have already established their relationship, and what a loving, passionate one at that. Here Kier and Lara must separate and the romance takes a backseat. Lara must come to the Heart of the Plains before the council to face a trial to determine whether or not she is worthy as the Warprize. The custom states that Lara is to not have any contact with Kier. She will be courted by other Warlords and be allowed to chose one of them if she so desires. Of course her mind is already set on Kier, so the reader doesn't have to worry about that.
What really stands out for me in this book is that Lara is such a wonderful heroine. That she is extremely strong as a person. She is so very courageous and brave in her own unique way. No, she can't wield a weapon as well as the firelander's can, but she is no less fearsome in her words and actions. I just love how she handles the rudeness of the Warrior Priests.
We see the reappearance of some of the characters from the first book. We also learn a little more about Marcus and his secrets. That was very interesting. This was a beautifully written story. I would have liked to have had Lara and Kier interact together more in this story. Other than that it was a fantastic ending to a great trilogy.
Here is what others had to say:
Natuschan
Dear Author
LesleyW's Book Nook