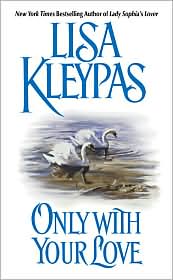 Title:
Only With Your Love
Author:
Lisa Kleypas
Publishing Date:
1992
Genre:
Historical
Rating:
B-
Sensuality:
Hot
Celia Vallerand is sailing to America from France with her new husband, Philippe when their ship is attacked by pirates. Her husband dies trying to save her life and she is taken prisoner. She is to be a present for the leader's brother. The pirates sail to their own private island, which serves as a place to hide their stolen goods. This is when Celia is given to Andre, a big nasty fat man with a penchant for roughing up the women he sleeps with usually ending in death.
Celia is saved from this fate by another pirate Captain Griffin, only he is not fat and nasty, he's a gorgeous specimen of a man with piercing blue eyes and silky black hair. He promises to take Celia back to her husband's family in New Orleans.
I had a few problems with this book, the main one being Celia's instant attraction to Captain Griffin. It was hard for me to believe that a woman who had just seen her husband's bloody dead body and a woman who had been beaten and almost raped would be mentally capable of dealing with feelings of lust at this point. It is too much of a stretch for me for this scenario to work.
What did work for me was the winding and twisting plot. There were a lot of surprises in this book. There were some that I saw coming and some I did not. This is what kept me turning the pages, not necessarily the characters themselves. Celia was just okay for me. She didn't really leap off the pages. I felt that she was just a tad bit selfish for me to really like her. Griffin was a major jerk, but I liked him anyway. He was definitely selfish too.
*Warning* This book has a forced seduction scene that borders precariously close to rape.
Here is what others had to say:
Reading Adventures