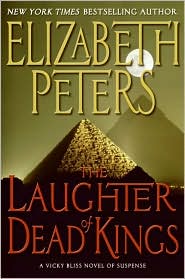 Elizabeth Peters was one of the first authors I fell in love with. I first read her books under the pseudonym Barbara Michaels and then moved on to her Elizabeth Peters novels. Of the many books she wrote (and their are over 60 of them) the Vicky Bliss mysteries are some of my favorites.
It turns out that Ms. Peters is releasing one more Vicky Bliss mystery after 14 years. I am just tickled pink. I devoured these books when I was a teenager. I don't know what it was about her writing style, but it just clicked with me. The books were always narrated by the heroine, who seemed to have the right balance of humor and naïveté. Because it was from her point of view, the reader was never sure who the hero was until the end, when he inevitably came to her rescue. Her characters always seemed so believable and human. I just couldn't help but relate.
A few years ago I started reading her books all over again. I wanted to see if they would still have the magic that they once held for me all those years ago and sure enough they did. Needless to say, I am very excited about this new release
Laughter of Dead Kings
, out August 26th of next month. Here are the five books in the series and their reading order:
Also, I just want to point out that Ms. Peters is 81 years old and is still publishing books. Is that not amazing or what?! Her first book
The Master of Blacktower
was published in 1966. She has been publishing books for 42 years. I hereby salute Ms. Peters and recognize what a wonderful, talented writer she is.