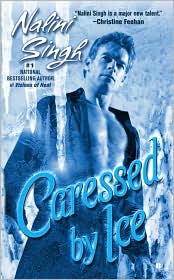 Title:
Caressed by Ice
Author:
Nalini Singh
Publishing Date:
September 2007
Genre:
Paranormal
Rating:
B
Sensuality:
Hot
Caressed by Ice
is the third book in Singh's Psy-Changeling series. It features Judd Lauren, an arrow Psy who has defected with his family from the PsyNet and is currently living with the SnowDancer wolf pack. Brenna Shane Kincaid was the victim of the serial killer from the first book in the series
Slave to Sensation
. She has been trying to recover herself and heal from the incident, but she has been having trouble readjusting to her old life. She is drawn to Judd for reasons she is unsure of, after all, with Judd being a Psy, unable to feel emotion himself, he cannot comfort her. On top of all that, one of Brenna's packmates is murdered and now it appears her life may still be in danger.
I had mixed feelings about this story. On the one hand, I really like the fact that each book in the series builds off of the one before it, keeping the series moving rather than becoming stagnant. I enjoy that the plot is new and fresh and very well developed. What I had trouble with in this story was that the pacing was uneven at certain times, usually when military tactics or Psy-silence was being explained. It seemed like this happened frequently.
In the beginning of the story, it was hard to understand Brenna's attraction to Judd. Well, to be honest, I don't think she understood it herself. Their relationship was difficult because Judd was in physical pain whenever he was physically touching Brenna. It was hard to get past Judd having a nosebleed every time he touched Brenna. Finally they do get past it and wow, let's just say the wait was worth it. Judd wastes no time making up for what was lost. I also enjoyed the dynamics between the secondary characters. One in particular I am interested in is Judd's niece Sienna. It seems she is always causing some trouble for Hawke. I wonder if they will eventually be paired up and get their own story. At any rate, this series is progressing nicely.
Here is what others had to say:
Natuschan
Dionne Galace
The Book Binge
The Good, The Bad, The Unread
Dear Author
Reading is Sexy