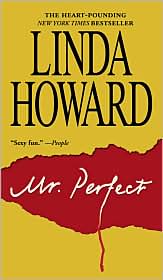 Title:
Mr. Perfect
Author:
Linda Howard
Publishing Date:
2000
Genre:
Romantic Suspense
Rating:
A-
Sensuality:
Hot
Jaine Bright and three of her female friends brainstorm a list of what requirements the "perfect" man would have to have over their routine dinner after work on Friday. By Monday morning the list is circling their work. The list ends up causing quite a stir and the ladies find themselves not only on local news but national news as well. Things take a turn for the worst when one of them is murdered and the rest are in danger for their lives. Janie's next door neighbor Sam, is a cop who comes to her rescue.
In the beginning of the book Jaine thinks Sam is a drug dealer or a drunk. Sam works all odd hours and is scruffy looking. Jaine thinks the worst of him. When her neighbor informs her that he is a cop, needless to say Jaine is shocked.
So much of what I love about this book is the witty repartee between Sam and Jaine. Jaine's mouth is left uncensored whenever Sam is around and those two can really go at it. They both are very evenly matched and it is so much fun to read. Jaine has what I like to call, "a large personality." She tries to tone down this with everybody, but with Sam, he likes it and she can just be herself. That is what makes Sam perfect in my eyes. I loved Sam and Jaine and wanted more.
Mr. Perfect
is one of Howard's best. I don't think I have done this book justice with this review. It really is a great book; one that just flies by when you are reading it.
Here
is an exchange between Sam and Jaine that I posted earlier to give you an example of the fantastic dialog between these two.
I have just one small complaint. What I didn't enjoy was the parts that were in the villain's point of view. I realize they may have been necessary to the suspense part of the story but I don't like reading them. Whenever I do a reread, I usually skip them.