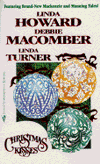 Title:
Mackenzie's Magic
Author:
Linda Howard
Publishing Date:
November 1996
Genre:
Contemporary
Rating:
C
Sensuality:
Warm
Mackenzie's Magic
is the fourth book in the Mackenzie series. Maris is the daughter of Wolf and Mary Mackenzie who started the series in
Mackenzie's Mountain
(one of my favorite books). Maris Mackenzie wakes up in bed with a man she doesn't know. She has no memory of how she got there. She quickly learns that she stole the prize horse she has been training. She has to get her memory back fast because whoever hit her on the head is going to come back to finish the job.
This story was ridiculously short and a big disappointment. The whole dang story takes place over only a few measly little hours! I am not even sure if the story was 100 pages long. Maris's personality was in keeping with an only girl growing up in a house full of Mackenzie men. It made since that she would be direct and know exactly what she wants – and knows she'll get it. Alex MacNeil's character, on the other hand, was not developed properly. I actually almost forgot his name. He has so little presence in the story. Also, there is none of the snappy dialog that Linda Howard is so well known for. Then, if that wasn't enough, Alex and Maris's relationship is completely overshadowed at the end of the story with the introduction of Zane's little girl, Nick. I am not even going to try and put into words how annoying her baby talk was. All I can say is, don't start with this one, only read it if you are desperate for a Linda Howard book and you have read everything else.