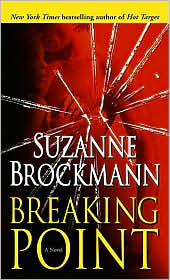 Title:
Breaking Point
Author:
Suzanne Brockmann
Publishing Date:
2005
Genre:
Romantic Suspense
Rating:
A
Sensuality:
Warm
*Warning, You must read the books
Over the Edge
and
Out of Control
before reading this book!
Breaking Point
is book nine in Brockmann's Troubleshooter series. Finally, fans get to finish Gina and Max's and Molly and Jone's stories. At the beginning of the story, Max receives an email stating that Gina has been the victim of a terrorist bombing in Germany. He flies there to identify the body and bring it back, only to discover the body is not Gina. Thus begins an investigation that Jules and Max undergo to find out what happened to Gina.
Man, this book was so good. Right from the beginning it took a hold of me and did not let up one iota throughout the story. That surprised me too, because I was hesitant to start this book. It just seemed like I wasn't going to like it and boy was I wrong. It is very intense. I am not going to lie to you. This is not a light romance. It is heavy and in some places, very dark. Brockmann does a good job of not letting the reader get too overwhelmed with the darkness and interjects with happier moments.
What I really enjoyed the most was the range of emotions Brockmann was able to evoke and the intensity with which I felt them. The joy and elation when Molly and Jones finally unite; the sorrow and regret when Max thinks Gina is dead and there are so many more ups and downs and twists and turns. The reader is in for quite a treat with this story. As harsh as the trip is for these couples to reach their happy ever after, it is all so much sweeter when they finally do reach it. I loved this book and I will be so sad when I finally catch up to the current book in this series. Brockmann is a genius.