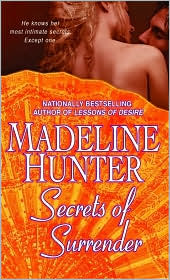 Title:
Secrets of Surrender
Author:
Madeline Hunter
Publishing Date:
June 2008
Genre:
Historical
Rating:
B+
Sensuality:
Hot
Roselyn Longworth is in a bad situation. Out of sheer desperation she allows herself to become the mistress of Lord Norbury. In dire financial straights she thinks Lord Norbury is an honorable man whom she can turn to in her time of need. Unfortunately, Roselyn misunderstood what he wanted. She finds herself at a country party that is much more lurid and scandalous than she could ever have imagined. While there, she rejects Lord Norbury and he in turns publically insults her by auctioning her to the guests at his party. Fortunately for Roselyn, Kyle Bradwell is there to bid for her. He wins the auction and then honorably takes Rose home to her relatives.
I really enjoyed this story. Kyle and Rose do not have an easy relationship. When they first meet and then eventually marry they have a lot of baggage to contend with. They slowly have to work out their problems before they can magically fall in love. That in a nutshell is the beauty of this story. I loved the way Hunter shows us the evolution of their relationship. When they first start out in their marriage, the physical intimacy between the two is very vanilla. Both Rose and Kyle are holding back, not fully ready to trust each other with their true selves. Then halfway through, Rose calls Kyle on his holding back and he calls her on it too. Bam, now all the sudden the sheets are on fire. It was amazing to watch the transformation.
I loved Kyle's character. He was noble without being a prig. He was authoritative without being controlling. I quite liked him. Oh, and I was completely sold when he ate a second piece of Rose's pie. That was so endearing. Rose was a little bland in comparison to Kyle, but I did like her. A few times I wanted to tell her to get over her brother already, but I understood where she was coming from. This was another solid story from Hunter that I definitely recommend.
Here is what others had to say:
Dear Author
Jane has quite a different perspective on this book than I did.
Cupid's Chokehold