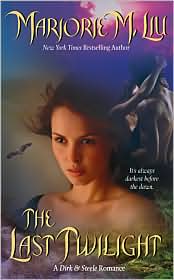 Title:
The Last Twilight
Author:
Marjorie M. Liu
Publishing Date:
February 2008
Genre:
Paranormal
Rating:
B+
Sensuality:
Warm
The Last Twilight
is book seven of Marjorie M. Liu's Dirk & Steele series. This book features Amiri who is a shape-shifter that changes into a cheetah. We first met him in the second novel
Shadow Touch
. Amiri works for the Dirk and Steele agency. This security agency is a front for "unusual" individuals like Amiri. I think of these individuals as similar to the x-men characters. They all have a super-power of some kind. Amiri is sent on a mission to Africa to protect Rikki Kinn, a doctor working in an Ebola virus hot zone.
The best word to describe this book is intensity. From the first chapter things are harrowing and never let up. So many devastating events are happening and things seem pretty grim and hopeless. Never-the-less, as dire as things become, Amiri and Rikki never give up hope. I am not sure how I feel about this story. On one hand it is very riveting, a hang-by-the-seat-of-your-pants ride, if you will. On the other hand, my God, could anything more go wrong for these two people? Thank goodness, this is a romance and is true to the happy ever after. I did have my doubts though.
Rikki and Amiri's romance is desperate and touching to say the least. If any two people needed someone to love and trust it is these two. Rikki is a truly strong heroine in every sense of the word. She never once ever thinks of giving up when things seem impossible. She completely kicks ass! I love Liu's writing. I think she is very gifted and this story is a true testament to her talent. I couldn't turn the pages fast enough. My one complaint is that she add a touch more humor or light-hearted moments to balance out the dark mood. I can't wait to read the next installment in this series.
Here is what others had to say:
The Book Binge
I Just Finished Reading