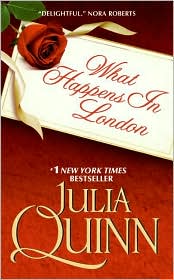 Title:
What Happens in London
Author:
Julia Quinn
Publishing Date:
June 2009
Genre:
Historical
Rating:
B
Sensuality:
Warm
Book Disclosure:
Borrowed from the library
I have to admit I wasn't going to read this story. I am not one for spy plots in romance (Joanna Bourne being the exception) and plus I had already had over 10 books on my wishlist for June when this book was released. Then I started noticing all the positive reviews around the blogosphere and I couldn't resist adding it to the pile. While not being my favorite read of 2009, I was still happy to have picked it up. I couldn't help but be charmed by Harry.
Over tea with her friends, Olivia Bevelstoke discovers that her neighbor to the South, Sir Harry Valentine is rumored to have murdered his fiancé. Now, Olivia doesn't quite believe the hype, but she can't resist the lure of spying on him from her bedroom window. Harry notices the pretty young Miss watching him and can't make heads or tails of it. Eventually, he is given and assignment and he is supposed to watch her, or actually the Russian Prince who has shown an interest in Olivia.
The best thing I enjoyed about
What Happens in London
was the clever and witty conversation between Harry and Olivia. At first, the two do not like each other. They fence with words, often trying to outdo the other. Harry thinks Olivia is cold and aloof, but once he gets to know her he wonders how he could have ever thought her cold. She is very fun after she develops a friendship with Harry. Harry is more of a Beta hero, except in his interaction with the Russian Prince. I got a kick out of their interaction. It was like watching the male animal perform a territory ritual - quite amusing.
This book is loosely related to
The Secret Diaries of Miss Miranda Carver
. I didn't read that book and I never felt lost in this one although there was a very small reference to it.
Here is what others had to say:
Babbling About Books, and More!
Alpha Reader
The Book Binge
Books, Books and More Books
Love Romances and More
Tracy's Place
Outlandish Dreaming
You Gotta Read Reviews
Bookishly Attentive
My Reading Addiction
The Book Girl
All About Me
Randi Romance Reader
Dear Author
The Book Smugglers
Janicu's Book Blog
Smexy Books
This book can be purchased in print or kindle format from
Amazon
.