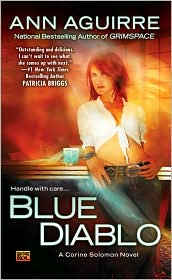 Title:
Blue Diablo
Author:
Ann Aguirre
Publishing Date:
April 2009
Genre:
Urban Fantasy
Rating:
B+
Sensuality:
Subtle
Book Disclosure:
Borrowed from the Library
Blue Diablo
is the first book in a new urban fantasy series by Ann Aguirre. Corine Solomon narrates the story from the first person point of view. She is what is known as a handler, someone who can read a story by touching an object. Her gift does not come naturally to her, as she inherited the gift upon her mother's death. Corrine is currently living in Mexico running a little antique shop. Her life is peaceful until an old flame shows up on her doorstep. Chance needs her to help track down his missing mother. Corine wants to refuse Chance since their past relationship didn't end so well, but Corine was close to Chance's mother. The trail to Chance's mother leads them into the dangerous world of black magic and witchcraft.
This was my first Ann Aguirre book and I was pleasantly surprised with
Blue Diablo
. Corine is a great leading character. She is smart, with a great sense of humor. She is capable of making fun of herself and the situations she gets herself into. She is really more of a normal girl, in that she doesn't want to be out there fighting bad guys. She wants to work in her little antique store, drink good tequila and relax in a nice bath. But when called upon to help a friend in need she will do whatever is necessary to help. I think Corine will appeal to a lot of readers.
The setting plays a large role in
Blue Diablo
. Corine and Chance are trying to locate his mother and they travel all around the bordering towns of Mexico and Texas. The culture and lifestyle in the area really sets the mood and tone for much of the book. The reader gets a sense of the seedy Mexican underground and how the people hold on to superstitions.
As far as romance goes, Corine still has feelings for Chance. They still have issues they need to work through. Corine also meets Jesse Saldana, a cop who is an empath. He introduces her to other people like her that have unique gifts. Corine and Jesse are attracted to each other, as well. There is a slight love triangle issue, but it is subtle. The romance is not the focus and is more in the background. I am definitely, liking this series. I can't wait to read more and it turns out the next release,
Hell Fire
is in April.
Here is what others had to say:
Babbling About Books, and more
Book Love Affair
Darque Reviews
Lusty Reader
This book can be purchased in print or kindle format from
Amazon
.