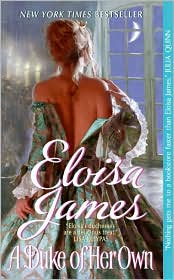 Title:
A Duke of Her Own
Author:
Eloisa James
Publishing Date:
July 2009
Genre:
Historical
Rating:
A
Sensuality:
Hot
Book Disclosure:
Borrowed from the library
A Duke of Her Own
is the 6th book in Eloisa James' Desperate Duchesses series. Lady Eleanor finds herself as one of the two women the Duke of Villiers is considering for his bride. The Duke has six illegitimate children who he plans to openly accept into society and he needs an appropriate Duchess who would be able to ease their way. Eleanor had her heart broken when her childhood love, The Duke of Astley was forced to wed another. Eleanor hasn't been able get over him and deep within her heart believed that he would come back to her. The Duke of Villiers awakens a part of Eleanor she never knew about herself and she finds herself most intrigued by his outrageous ways.
This was my first, ever book by Eloisa James and I absolutely adored it! I don't know how she has managed to give me the slip all this time, but I must remedy this situation immediately. James' writing is oh so very smart. The characters are just down-right bold and clever, but it is all held within the historical time period. Also, the pacing of the book is sublime. The balance between internal characterization and external action is perfect. The secondary characters were all just wonderful too. I mean really, I was just blown away by this book!
Here is a small snippet of the writing. This little scene in the beginning of the book between Eleanor and Villiers had me chuckling.
He looked her directly in the face. "I have six illegitimate children."

Eleanor felt her mouth slip open, and snapped her teeth together. Was she supposed to congratulate him? "Oh," she ventured.

"I wish to marry someone who will not only mother my bastards, but launch them into proper society when the appropriate time comes. The Beaumonts have assured me that no woman below your rank will be able to cow the ton to the extent that I demand. You needn't look so surprised. I assure you that many men at this ball have a bastard or two being raised in the country."

There was something extraordinarily annoying about the way he paused after that, as if expecting her to scream and faint. "One or two... versus six," she said musingly. "I gather you have led a life of rather extraordinary dissipation."

"I'm not as young as I look."

"You don't look very young," she observed.

"I see you're not expecting to charm your way into a title."

Essentially, the Duke was a careless and selfish man who made bad choices. Something happened to him in a previous book and on his deathbed he made a promise to God that he would take care of his children. Now the Duke is trying to turn over a new leaf and has plans to become a family man. The beauty of this story is that his transformation is very believable because he still does outrageous things. Plus with Eleanor he has finally met his match. She's not ever going to just fall at his feet and worship him. She matches wits with him and keeps him comfortably challenged.
A Duke of Her Own
is a true gem and I highly recommend it!
Here is what others had to say:
Musings of a Bibliophile
Medieval Bookworm
Monkey Bear Reviews
Bookishly Attentive
The Good, The Bad, The Unread
Love, Romances and More
This book can be purchased in print or kindle format from
Amazon
.