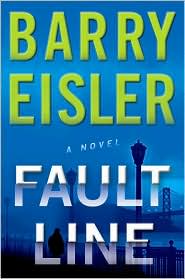 Title:
Fault Line
Author:
Barry Eisler
Publication Date:
March 2009
Genre:
Mainstream Fiction/Thriller
Rating:
B+
Sensuality:
Warm
Book Disclosure:
Received a signed copy from Mr. Eisler at the Romantic Times Convention 2009.
Alex Trevan is a patent lawyer and when one of his clients, the creator of a new encryption software is found dead in a parking lot, Alex has a feeling this is not just a random shooting. After more bodies start turning up - all of them involved with this patent - Alex knows he is next. He is also worried for the safety of his assistant, Sara. With nowhere else to turn he calls in his brother Ben, a black ops military soldier, for help.
I must say that the whole reason why I moved
Fault Line
to the top of the TBR pile was because of Caroline Jewel's positive
review
that I read over at Dear Author. She really had me curious about this book. It's not a romance, yet she did point out that there was romance in it. Low and behold, I was pleasantly surprised with my reaction to
Fault Line
.
The main plot of the story has to do with Alex trying to figure out why someone would want to kill for this computer program. But, that is not the reason why the book held my attention. What really intrigued me was the relationship between Alex and Ben. The two brothers have a lot of animosity towards each other. At first, you get Alex's perspective and immediately begin to empathize with him and take his side. But slowly, over the course of the story Ben's perspective comes into play and you realize that nothing is cut and dry and that both men have a point. That to me is the real beauty of this story.
There is romance in this story, not a lot, but enough to satisfy me. I don't want to say too much about the romance, mainly because what I thought was going to happen didn't. I am actually glad it didn't because I think things worked out better the way Eisler wrote them. Hah! That's why he is the writer and I'm the reader. Also, there is quite a little twist to the ending involving who was after the computer program. I love how the ethics in this book are outlined in different shades of grey, instead the boring black and white we are normally familiar with. It makes for very interesting reading. However, the beginning of the book is a little slow. If you can hold out until Ben gets into town you are in for a treat. I definitely recommend this thriller for when you are in the mood for something different from the stereotypical romance books, especially if you are a fan of suspense.
Here is what others had to say:
Dear Author
guest reviewer Carolyn Jewel
Dear Author
guest reviewer Phyl
Smart Bitches, Trashy Books
This book can be purchased in print or kindle format from
Amazon
.