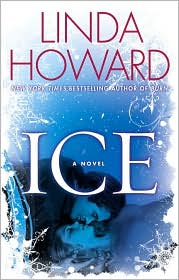 Title:
Ice
Author:
Linda Howard
Publishing Date:
November 2009
Genre:
Romantic Suspense
Rating:
B-
Sensuality:
Warm
Book Disclosure:
Borrowed from the library.
Gabriel McQueen is home for the holidays visiting his family in a small town in Maine. His father is the Sherriff and he is concerned for one of his citizens, Lolly Helton. A very dangerous ice storm is hours away from rolling in and Lolly might possibly be stuck in her cabin on a mountain. Gabe's father wants him to go check on Lolly and make sure she is safe. Gabe would rather do anything than that at the moment, as he and Lolly haven't always gotten along in the past. Yet, Gabe could never refuse his father anything, especially something as important as a person's safety and therefore heads off on this fool's errand.
Ice
is classic Linda Howard with a military hero, who is tough as nails and competent and cool in the worst of situations. The heroine is a no-nonsense, capable woman willing to do whatever is necessary to survive. Lolly and Gabe have a history of rubbing each other the wrong way, but now they must work together if they are going to survive.
The thing that really frustrates me with this story is the length. It's so dang short, only 198 pages. It's a good story. I enjoyed reading what I was able to, but I soooo wanted more - more back story, more banter between Gabe and Lolly and most importantly more sexual tension. A lot of the romantic development played second fiddle to the suspense. I wanted it to be the other way around.
I can't really recommend this book to readers who haven't ever read Howard before. It's just not up to par with her previous work. I do think that fans of Linda Howard, who can't seem to give her up (I am really talking about myself here), might want to rent this book from their library. I think it took me a couple of hours to read and I was entertained, albeit very briefly.
Here is what others had to say:
Leslie's Psyche
Romance Reading Mom
Flirting With Romance Books
Nobody Asked Me
Dear Author
This book can be purchased in print or kindle form from
Amazon
.