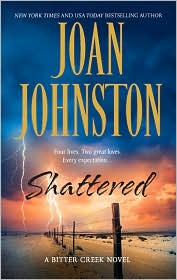 Title:
Shattered
Author:
Joan Johnston
Publishing Date:
Jan 2010
Genre:
Contemporary
Rating:
B
Sensuality:
Warm
Book Disclosure:
Received a free copy from publicist.
Shattered
is book 8 in Joan Johnston's Bitter Creek series. Usually, I am a stickler for reading a series in order, but I broke my own rules with this book. This is my first time ever reading Joan Johnston and believe me when I say I was annoyed to find that I was starting with book 8. But I did promise I would review this book and I wasn't about to read all 7 previous books, just to catch up. Then I saw
Casee's review
over at Book Binge. She had been waiting years for Jack's story. She was also majorly disappointed in the book. (Her review has spoilers, so be careful if you read it). Now, I believe that I have an advantage in not having read the previous books.
Kate Grayhawk Pendleton had a one night stand 9 years ago that resulted in the creation of her twin boys. She was married at the time and remained married to JD until he faked his death in Afghanistan. Kate never knew the identity of the twin's father until a recent DNA test showed that Wyatt Shaw, a brilliant business man and the illegitimate son of a powerful mob boss is the man Kate could never forget. But Kate is finally ready to settle down with Jack McKinley, a man she has had a crush on since she was nineteen. Jack is in the process of divorcing his wife Holly. Some complications arise when Jack finds out Holly is pregnant with his second child.
Does this sound like a soap opera to you? That's exactly like what I felt like I was reading. Johnston does a good job of catching the reader up to speed on what has happened in the past. Though, people who have already read the previous Bitter Creek novels might be annoyed at the recap. For me, it served to peak my curiosity as to just what exactly happened in the previous novels.
This book has two couples coming together. The couple I preferred to read about was Kate and Wyatt. Wyatt reminds me of the heroes from Judith McNaught's or Linda Howard's older books. He basically barges into Kate's house and tells her she and the twins are in danger and she has to come and live with him. When they get to his house he tells her she is to share his bed. He goes all kind of alpha on her and won't take no for an answer. Of course outwardly Kate is outraged, but inside she is glad for his intense desire.
Jack and Holly's relationship was much more emotionally draining. A tragedy befalls their 6 year old son which, as a parent was tough to read. Don't worry it does have a happy ending, but it wasn't as fun to read as Wyatt and Kate butting heads. I like the drama and the high handed actions of the men. But, the bad guys in the book are over the top. All in all, I really enjoyed Joan Johnston's writing style.
Here is what others had to say:
Fiction Vixen
Love Romance Passion
Book Binge
Book Junkie
Dark Diva Reviews
Book Addict
Lovin Me Some Romance
This book can be purchased in print or kindle format from
Amazon
.