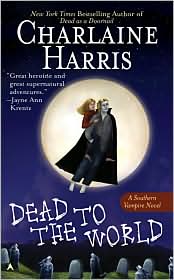 Title:
Dead to the World
Author:
Charlaine Harris
Publication Date:
2004
Genre:
Urban Fantasy/Mystery
Rating:
B
Sensuality:
Warm
Book Disclosure:
A friend bought me this book for my birthday.
Dead to the World
is book four in the Sookie Stackhouse Southern Mystery Series. In this book, as Sookie is driving home from Merlotte's bar, where she waitresses she finds the vampire Eric on the side of the road, naked. Eric has no recollection of who he is so Sookie being the sweet southern girl that she is, takes him to her home and calls his vampire friends. It turns out Sookie will need to hide Eric because a Witch Coven has come to town. These aren't just any ordinary witches either. These are very powerful shifter witches who happen to be addicted to vampire blood.
Dead to the World
is another fine addition to the Sookie series. I personally find Sookie to be a nice, practical girl. Though, she will let her claws show if provoked enough. In this story, she has broken up with Bill and Bill has gone off to South America to work more on his vampire directory. Sookie finds herself in the middle of vampires, witches and shifters when she is tasked with hiding Eric. Eric is not the same since he can't remember his past. He is much nicer and Sookie can't help but be drawn to this new personality.
Personally, I missed the old Eric with his sense of humor. Although, I did like how the new Eric treated Sookie, with much more respect and as an equal. There are new shifter characters, most notable were Calvin Norris and his clan. There has been too much inbreeding amongst Calvin's clan and he'd like Sookie to mate with him to add new genes. Alcide and his group also show up to help defeat the witches. There is quite a lot going on, but it all comes to an exciting conclusion. The book definitely leaves this reader ready for more.
Here is what others had to say:
Reading with Tequila
Bailey's and Books
Mindful Musings
nomadreader
Well-Read Reviews
I'm Booking It
My Reading Room
This book can be purchased in print or kindle format from
Amazon
.