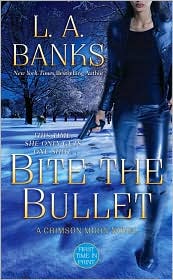 Title:
Bite the Bullet
Author:
L. A. Banks
Publishing Date:
2008
Genre:
Urban Fantasy
Rating:
C
Sensuality:
Warm
Bite the Bullet
is book 2 in L. A. Banks' Crimson Moon shadow wolf series. Sasha Trudeau, a formidable soldier for the United States, discovered she is a shadow wolf by partnering up with Max Hunter the Alpha of the Northwestern Shadow Clan. Sasha is still learning what it means to be a shadow wolf and is now dealing with a full moon and the mating heat. The problem of infected shadow wolves grows more dire everyday. With the UCE conference of supernatural beings meeting in New Orleans, Sasha must dispose of the infected wolf threat before an all out war between supernaturals occurs.
I had a little bit of trouble with this second installment of the Crimson Moon series. I liked the first book well enough and thought this was an interesting series with good characters. However, upon reading
Bite the Bullet
, the biggest change I noticed was Sasha. Her personality has taken a turn for the worst. She has become very angry and it's like she has a really bad case of PMS. True, she has good reason to be angry, given the fact that her hormones are all out of whack and there are some seriously scary, infected wolf creatures eating people. Still, her bad attitude got old real fast.
Aside from Sasha's own personal issues, Max is dealing with some of his own. He has been infected and is afraid he will turn into one of the "seriously scary" people eaters. The thing that really surprised me about this book is the amount of gore. Banks does not shy away from the gross stuff and some of it is rather horrific. I have to remind myself that this isn't a paranormal romance, but instead urban fantasy. Although, this book does end on a positive note.
I think I would like this series better, if I could relate a little more to Sasha. Unfortunately, I don't have much in common with her. For those of you who enjoy very strong female leads, she is a strong woman having gained much of her personality through the military. She is logical, orderly and is not afraid to make tough decisions when she has to. I personally would like to see a softer side to her and maybe future books will allow for it. I do plan on reading the third book
Undead on Arrival
which releases this month, just to see how it stacks up.
Here is what others had to say:
SciFiGuy.ca